Aymeric Niederhauser, alumnus (2011)
Aymeric works in the industry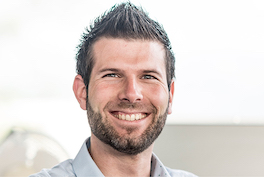 "I had several job opportunities like doing a PhD or an employment as engineer in various companies."
What was your academic and professional background prior to your BME Master's studies?
Besides an apprenticeship in Automotive Mechanics & Electronics, I had a Bachelor degree in Microtechnology and Medical Technology.
How did you get interested in biomedical engineering?
It started during my apprenticeship as I was interested in developing products rather than repairing them and when I discovered the sweet spot between technology and medicine and its deep purpose/sense behind it.
How did you come to know about the BME Master's program? Why did you choose this program among others?
I was curious as it was quite a new program and the integration into the faculty of medicine gave it a special environment. Another favorable point was the diversity of course locations and the university hospitals I was introduced to (Bern, Biel, Basel).
How was it to work part-time during your studies?
It was really quite tough as I had a 50% job – thus I worked quite some nights doing my homework. But I would do it again! It gave me a lot of experience and I really enjoyed working on industrial projects in the BME Lab at the University of Applied Sciences in Biel.
What was your career plan after graduation? Where do you work now and in which position?
I had several job opportunities like doing a PhD or an employment as engineer in various companies. I have been working at Creaholic for over 7 years now and I do not regret my decision to have joined the industry instead of academics. I am a project leader, having a lot of contacts with clients and I also became a partner at Creaholic.
Which competences/skills did you develop/gain during your studies that are useful for your present professional position?
Flexibility and stress resilience to jump from one topic to another and to combine different tasks like studying and working. I further strengthened my holistic thinking as biomedical engineering is highly multidisciplinary.
Did you discover anything new about Bern during your studies?
As I commuted from the Bernese Jura to Bern (or Basel, or Biel), I spent quite some time on the train. But I still discovered nice places, especially around university campus and Inselspital.
Share one special experience!
I have really good memories about the Anatomy of the Locomotor Apparatus block module and the time between the courses doing homework together with my study friends.