Iwan Paolucci, BME alumnus (2017)
Iwan at the Biomedical Engineering Day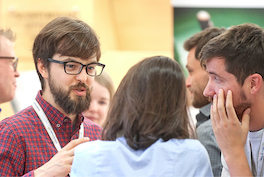 "The live neurosurgery at the BME Day with image-guidance and all other technology literally "blew my mind" and I knew that this was it!"
Iwan is a Postdoc in the Image-Guided Therapy group at the ARTORG Center:
"My work is very diverse and one day I am writing a grant proposal or a manuscript, the next day I work with my master students in the lab, and yet another day I'm in the OR for a clinical trial - just to name a few activities. However, there is always time for a coffee break and some discussions with my colleagues."
What was your academic and professional background prior to your BME Master's studies?
I did an apprenticeship in IT at PricewaterhouseCoopers in Basel and Zürich (2004 – 2008). Afterwards I worked as a Software Engineer at syseca-informatik AG, a small software company in Lucerne. During that time, I also did a BSc in Computer Science at the University of Applied Sciences and Technology in Lucerne, which I graduated from in 2013.
How did you get interested in biomedical engineering?
After I finished my BSc, I went travelling around the world and stayed in New Zealand for a while to improve my English skills. Another guy in my host family was an orthopedic surgeon from Tahiti, practicing for almost 30 years. Because my host father had a broken shoulder, we talked a lot about this topic. He then explained how technology helped him to provide better care for his patients. It was this time when it became clear for me that I want to apply my software engineering skills to bring solutions to health care challenges.
How did you come to know about the BME Master's program? Why did you choose this program among others?
I was looking for specialized MSc programs on the interface between computer science, engineering and medicine. The choices in Switzerland at that time where limited to the University of Bern and the ETH. After I saw that the Bern program was located at the medical faculty, I went to have a look at the BME day. The live neurosurgery with image-guidance and all other technology literally "blew my mind" and I knew that this is it!
If you worked part-time during your studies: how was this experience?
Out of my 7 years at university, I studied 6 of them part-time. It was a very tough time, but I learned a lot more this way. The possibility of applying the things I learned in class to the challenges I faced at work was rewarding and helped me to deepen my knowledge. Coming out of university with industry experience was also very valuable and helped me in many ways.
What was your career plan after graduation? Where do you work now and in which position?
I continued my research from my MSc thesis and continued as a PhD at the ARTORG Center. I am currently writing my thesis about image-guidance for liver cancer treatments and will hopefully finish this summer (2020). (N.B.: Iwan successfully defended his thesis: congratulations, Iwan!)
Which competences / skills did you develop / gain during your studies that are useful for your present professional position?
I think the most useful part were the medical courses like anatomy, physiology and cell biology. This basic medical knowledge helps me day in day out to communicate with my collaborators from Inselspital and other clinicians around the world about clinical problems and ideas on how to solve them.
Did you discover anything new about Bern during your studies?
I grew up not too far away from Bern, so I knew the place already. But I did not know about the Medtech industry and startups in the region. I always thought that this sector is "owned" by big companies only. I was surprised to see how many start-ups emerge here and how much innovation is going on.
Share an anecdote / highlight of your time in the BME Master's program.
Our lecturer in anatomy of the locomotor apparatus usually asked about our hobbies (skiing, motorbiking etc.) and then explained to us which bones and ligaments we are most likely to break.