Jérôme Charmet, BME alumnus (2010)
Jérôme is a professor at the University of Warwick, UK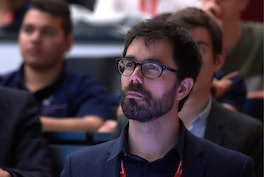 "I settled on the BME course as it fulfilled my interest in biomedical engineering and my hope to, one day, do a PhD."
The picture was taken when Jérôme came to Bern for the BME Day 2018 and the BME Club's 10th anniversary. The BME has become a great networking event and many alumni turn up to meet with former classmates and colleagues.
What did you do before starting your BME Master's?
I graduated from the Ecole d'Ingénieurs du Canton de Neuchâtel (EICN – now HES-SO Arc) in 1998 with an ETS Engineering diploma in Microtechnology after 6 years of study (my title was later converted to HES diploma). I then worked in Ireland for 4 years, at Intel, the National Centre for Sensors Research but also as a sound engineer in Dublin. I spent a year in Indonesia for my Civilian Service, teaching in a technical school (in Indonesian, which I still speak), and also in Switzerland in between and after. In particular, I worked about 5 years at HES-SO Arc as research assistant in the Microtechnology Institute before enrolling on my BME Master's studies.
How did you get interested in biomedical engineering?
Straight after my undergraduate studies, I worked on the development of a microcapsule for intestinal exploration as part of a European project (Interreg). I worked on a sensor to measure the distance travelled by the capsule. The work involved spending some time at Strasbourg Hospital. We got to work with the "in-house" engineer who had an amazing lab under the roof of one of the buildings. This engineer (sorry I forgot his name) worked primarily with clinicians, helping them in their daily jobs, creating new instruments for them. I thought it was truly amazing and it really motivated me to steer my career towards biomedical engineering (microtechnology is a broad field).
Then I got involved in a number of other European projects while at the National Centre for Sensors Research at Dublin City University (FP5 project) or the Microtechnology Institute at HES-SO Arc (FP6 and FP7 project as coordinating partner and project manager). The research was really exciting and the interactions with the scientists truly inspiring (and we got to visit amazing places and labs).
This is when I started to consider doing a PhD with the hope of using my microtechnology expertise for biomedical applications in academic context.
How did you come to know about the BME Master's program? Why did you choose the program in Bern?
Encouraged by my then boss Prof. Herbert Keppner (who was also teaching on the BME course and a true inspiration to me), I started looking for various options. Of course, I could not start a PhD straight away, so I first looked at a range of local MSc course options. Without much surprises (including the fact that with my HES diploma, I could directly enroll without having to undertake another BSc), I settled on the BME course as it fulfilled my interest in biomedical engineering and my hope to, one day, do a PhD.
You worked part-time during your studies: how was this experience?
Challenging ... but I would do it again. Well, I have to admit, I did not attend all the lectures as my professional workload was quite high (it was only part-time on paper). But since I had worked previously, and since I had a "grand plan", I was highly motivated and focused, which enabled me to concentrate on the essentials and get the most of the excellent courses offered (whether remotely or in class). The only thing that I missed was the social interactions. My studies spanned a few years, so I interacted with a number of cohorts, and also I never really stuck around after lectures as I was off quickly to get back to work.
What was your career plan? Where do you work today?
As mentioned above, my plan was to do a PhD … So after my graduation I started to look around (again). You may have guessed from above that I like to travel. So it will come as no surprise to you that I had planned to do my PhD abroad (and also, I had a decent understanding of various research environments in Switzerland and wanted to discover new ways of working and new research environments). Then, I had a girlfriend at the time, and even though she was happy to quit her job and follow me on my PhD journey, she told me she wanted to stay in Europe (she's very close to her family) and ideally in an English speaking country because she wanted to improve her language skills. Having lived in Ireland before (and wanting to discover a new culture), I applied for PhDs in the UK for a September 2011 start. Among my applications, I dropped one to the University of Cambridge for a W.D. Armstrong (Engineering for Life Science) scholarship… and much to my surprise, I was successful. So, I spent 5 years in Cambridge, where I completed my PhD on biosensors and a Post Doc on microfluidics.
Then, in 2016, I applied for academic positions and I am now an Associate Professor at the University of Warwick. My group works on some of the challenges associated with personalised medicine through the development of novel diagnostic, prognostic, or monitoring devices as well as new approaches to drug development and screening. In particular, we use our expertise in microfabrication and manufacturing to propose problem-driven, translational solutions in close collaboration with clinician and healthcare and biomedical partners. You can find more info about the group and some of our activities here www.charmetlab.com (please note, our most exciting research is not out yet –due to confidentiality issues- and there is more brewing ... stay tuned!)
In case you wondered about my girlfriend (referred to earlier), I am happy to say that we have survived the MSc, the PhD, and all the rest and we are now married and have a son.
Which competences/skills did you develop/gain during your studies that are useful for your present professional position?
Most importantly, the confidence to speak to clinicians, or biologists (because I had learned enough about various subjects to not feel completely lost during the discussions… don't get me wrong, I did get lost on a number of occasions and still do at times today). Then, I have also learned about academic rigour, and a number of other subject-specific skills.
Did you discover anything new about Bern during your studies?
The Wankdorf train station!
Share an anecdote / highlight of your time in the BME Master's program.
As part of the Tissue Biomechanics course (which was excellent by the way), we submitted a fake scientific paper instead of a lab report. The paper entitled, "Tissue biomechanics, study of chicken cruciate ligaments was submitted" to the "Journal of Chicken Tissue Biomechanics". The caption of the first figure read "Fig.1 : chicken during extreme sport activities". You can imagine the picture! The rest of the report was serious and quite good if one can judge by the mark we were awarded. It is just to highlight that it is possible to have fun while still producing good quality work.