Juan Ansó, BME alumnus (2013)
Juan works in San Francisco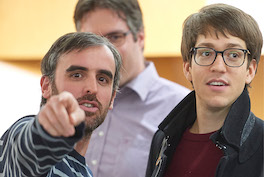 "During the master's studies, we learned to look at the problems with a broad mindset and then find the tools to solve specific problems."
What did you do before starting your BME Master's?
I held a degree in telecommunications engineering (5 years degree). After university, I gained three years of industrial experience, working in R&D departments of companies developing instrumentation for space and bio applications.
How did you get interested in biomedical engineering?
I started working at a company with a focus on development of bioinstrumentation. At the same time, my sister had a terrible disease. It was then, that I realized that I wanted to focus the next stages of my professional career pushing the field of biomedical engineering.
How did you come to know about the BME Master's program? Why did you choose the program in Bern?
Very simple: I found it on the internet. After having made the decision to pursue a career in biomedical engineering, I realized that my background in telecommunications was not enough. I decided to look for master's programs in Switzerland and Canada because I love to be close to the mountains. The BME master's program in Bern accepted my application and my next step was to find a part-time job to finance my stay in Switzerland.
You worked part-time during your studies: how was this experience?
I found a job as a research assistant in the Image-Guided Therapy Lab from the hand of Prof. Stefan Weber. The experience was GREAT. This made my experience in Bern and in the master's program incredibly intense, fun, and challenging. Besides that, I think without my part-time job I could never have afforded to live in Bern.
What was your career plan? Where do you work today?
I always knew that if I had the opportunity to do a PhD in a relevant topic that I felt was fascinating to me, I would take the chance for sure. That was what happened when I was about to finish my master's thesis and I decided to go for it. After my PhD, I worked as postdoc for three more years in Bern, further pursuing questions having arisen during my PhD. Now, I am working at the University of California, pursuing a second postdoc in a different field, with the goal of coming back to Switzerland and starting my own research lab.
Which competences/skills did you develop/gain during your studies that are useful for your present professional position?
All of them. Biomedical engineering is a broad field. During the master's studies, we learned to look at the problems with a broad mindset and then find the tools to solve specific problems.
Did you discover anything new about Bern during your studies?
Among many nice experiences, I discovered the incredible ambience of the city in summertime, especially around the lively river "Aare".
Share an anecdote / highlight of your time in the BME Master's program.
I don't remember a specific anecdote. Maybe something unexpected which has certainly changed my life is worth explaining. In the second year of the master's program, by chance and at a party completely unrelated to the master's, I met my wife. That party transformed my life as the master's in Bern had done before.