Lynn works as research assistant in watchmaking engineering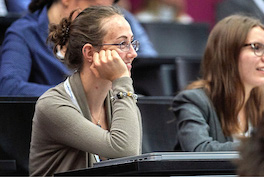 "The program offers a wide diversity of possible courses that are given by different institutes."
How did you get interested in biomedical engineering?
During my bachelor studies, I had a course with Herbert Keppner who told us about the master's program in biomedical engineering. That is how I started to look at this field.
How did you come to know about the BME Master's program?
See the above answer.
Why did you choose this program among others?
I heard from many students that the quality of this master was very good, with a lot of interesting courses and specialized teachers. The connection with the Inselspital seemed also very attractive.
What are the strengths of the program?
The wide diversity of possible courses that are given by different institutes. Each student is, therefore, able to choose his/her own direction and each teacher is specialized in the field he/she teaches and can share his/her experience. Moreover, the courses given together with physicians of the Inselspital are a good way to see the purpose of our studies.
Where do you work and how is this experience?
I work part-time (50%) as a research assistant in the HE-Arc, in watchmaking engineering. I like to work on projects for the industry besides studying. It shows how to use what you have learnt.
What is your career plan after graduation?
I would like to work in research. I do not know exactly where; I am quite open. But the fields of ophthalmology and cardiology interest me the most.
Have you discovered anything new about Bern?
I did not know Bern so much, so I discovered a lot, by day and night, during the master's. I especially like the Aare, the Gelateria di Berna and the Turnhalle.
Share one special experience!
What I will always remember is the strong friendship we developed in our class, which is still present.