Marc Stadelmann, alumnus (2013)
Marc is Research Engineer at RetinAI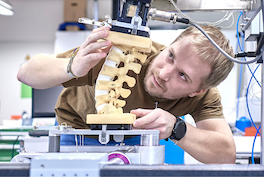 "I learned to solve complex problems in a more analytical way than what I was used to from my bachelor education."
What was your academic and professional background prior to your BME Master's studies?
I did an apprenticeship as electronic technician followed by a bachelor in electrical engineering.
How did you get interested in biomedical engineering (one concrete incident/trigger)?
Some years before I started with the BME Master's program, I visited the diploma work exposition of the Bern University of Applied Sciences in Biel. While the projects that I discovered there were using similar technical approaches to what I had seen elsewhere, I found the applications much more interesting and also more useful. Being a little bit of a perfectionist, I found it especially interesting to develop something that must not fail.
How did you come to know about the BME Master's program? Why did you choose this program among others?
Towards the end of my undergrad studies, I was looking for potential Master's programs. This is when I came across the website of the BME program with these really cool images. The program offered three key points that I liked. I started the program with the clear idea to go into electronic implants. I then discovered the advantage of having one semester of "introductory classes" at the end of which you have the choice between the three majors "electronic implants", "medical imaging" or "biomechanics" (which I decided to go for). The second important point for me was that I could directly transfer form a university of applied sciences to this program without having to take any additional classes (Passerelle). Finally, the program was organized in a way that all classes took place on three days. These days were maybe rather long compared to other university programs, however, it allowed me to work part-time during the semester.
If you worked part-time during your studies: how was this experience?
I worked part-time throughout the Master's program. Maybe I was lucky that I had good connections to the industry. This allowed me to increase the workload during semester holidays, and decrease it before/during the exam periods.
What was your career plan after graduation? Where do you work now and in which position?
I finished my Master's program with a 7 months stay in Canada where I wrote my Master's thesis. After a short break, I came back to the University of Bern where I did a PhD in Prof. Zysset's lab. Meanwhile, I work as a research engineer at the Bern located startup RetinAI medical.
Which competences/skills did you develop/gain during your studies that are useful for your present professional position?
Besides all the technical and analytical skills that I gained in Bern, the BME program provided me with a very good overview of the human anatomy and physiology. This has already been useful many times, especially when communicating with medical doctors. For instance, it allowed me to work on quite a broad area of biomedical engineering, being that the fracture strength of vertebral bodies, the motion of the diaphragm caused by respiration, mechanical properties of the intervertebral disc or the function of the retina.
Did you discover anything new about Bern during your studies?
I grew up 25 kilometers away from Bern, so this was not exactly a major change. Nevertheless, I moved to the city of Bern during my studies and still live here.