Prabitha Urwyler, BME alumna (2008)
Prabitha is Senior Researcher in the Gerontechnology and Rehabilitation group at ARTORG Center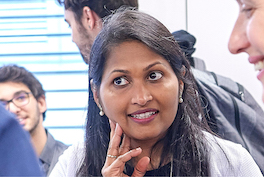 "The scope to add additional knowledge of different fields onto an existing engineering foundation got me interested in biomedical engineering."
What did you do before starting your BME Master's?
I completed my Bachelor in Technology (B.Tech) - Computer Science and Engineering in 1995 from the NMAM Institute of Technology (http://www.nmamit.nitte.edu.in/) which was then affiliated with the Mangalore University, India. Soon after, I started to work in the software export zone in Mumbai, which gave me an opportunity to work on a newsroom editorial project for the Swiss News Agency (SDA). This was followed by a deputation to Bern in 1997, which later on converted to an internal employee of the Swiss News Agency job in Bern.
How did you get interested in biomedical engineering?
Medicine and biology interested me since childhood. In fact, I had even taken a medical entrance exam after completing one year of my engineering curriculum. The 10 long years in the software industry were not challenging enough to keep my motivation high. The Bologna system gave me the required boost to look out for higher education options. The scope to add additional knowledge of different fields onto an existing engineering foundation got me interested to biomedical engineering.
How did you come to know about the BME Master's program? Why did you choose the program in Bern?
During my second maternity leave while browsing, an advertisement of the Biomedical Engineering on the Uni Bern website, picturizing an open spine and dynamic reference base, caught my attention. The design and the structure of the curriculum in UniBe were attractive compared to its counterparts. The part-time possibility with an existing job, close proximity to home, an extended master thesis possibility, and choice of focus areas were other convincing factors.
You worked part-time during your studies: how was this experience?
Maintaining a good balance between family, work, and studies was challenging, especially with two small kids. The first semester was hard, getting back to the grind of learning, the second semester seemed like a great uphill task. I worked 50% during the first three semesters and reduced to 40% during my master thesis. The additional working hours were compensated during the semester holidays. Cooperation from my co-workers, employer, and family was a driving factor for me to complete the courses and the master thesis as early as possible.
What was your career plan? Where do you work today?
After defending my MSc thesis in April 2008, I faced the dilemma about whether to go back to industry or pursue a PhD. With great advice from my well-wishers I decided to take up a PhD under the doctoral supervision of Prof. Bert Müller at the Biomaterials Science Center (BMC) at the University of Basel and conducted at the Paul Scherrer Institute. Currently, I am working as senior researcher in the Gerontechnology and Rehabilitation group at the ARTORG Center for Biomedical Engineering, University of Bern.
Which competences/skills did you develop/gain during your studies that are useful for your present professional position?
Courses from the Master studies such as Biomaterials, Engineering Mechanics, Tissue Biomechanics, and Finite Element Analysis were of great use in my PhD project. Topics such as regulatory affairs and project management have helped in my further jobs. Other skills such as scientific presentation, scientific writing, and literature review have further polished my academic career.
Did you discover anything new about Bern during your studies?
I have been living in Bern right from my first job on the Swiss soil, hence could not acquire anything exciting other than some "bärndütsch" slangs.
Share an anecdote / highlight of your time in the BME Master's program.
Being among the very first BME master's students in Bern was a joy in itself. That which began as a chaotic schedule in the first week, became a routine in the very first month keeping our very diverse class going with jokes interlaced with mechanics or spontaneous breakouts for "glühwein".