List of Sponsors and Exhibitors
Amgen
AO Foundation
BME Club
Cellek Biotek
CCMT
Congrex
Credit Suisse
CSEM
Haag-Streit
Institut Straumann
Maxon Motor
Medical Cluster
NCCR Co-Me
Nobel Biocare
RMS Foundation
SICAS Foundation
Stryker Trauma
Ziemer Ophthalmic Systems
The industry, medical doctors, and engineers meet for the Biomedical Engineering Day at the Inselspital in Bern with great success
On May 24, 2013, the Biomedical Engineering Day took place in the auditorium Ettore Rossi at the Inselspital in Bern. The Master in Biomedical Engineering program of the University of Bern organized this event for the fifth time.
The event is an efficient platform in Switzerland for networking of Master and PhD graduates and Swiss and international medical technology companies. This year's companies introduced themselves through oral presentations and gave insight into their commercial activities and their company philosophies as well as showed their demands on junior employees. Students thus had the opportunity to get to know potential future employers and contact them directly. This was made possible between the sessions in personal conversations and at the exhibitors' booths.
The BME Day offered great opportunities for the Bernese biomedical researchers, too. The ARTORG Center for Biomedical Engineering Research and the Institute for Surgical Technologies and Biomechanics as well as the Bern University of Applied Sciences, a partner within the Master program, used the possibility of presenting current research projects to more than 250 participants. Interestingly, Master and PhD students play an important role in many of these projects. Thereby, this event was a demonstration of scientific achievements, too.
Besides company representatives, scientists, researchers, and young academics, many medical doctors participated in this year's event as they had the chance for intensive communication with the biomedical engineers.
One highlight of the day was the successful live liver surgery by Daniel Candinas, Head of the Department of Visceral Surgery and Medicine, Inselspital Bern. Illustrative explanations in the auditorium were given by Stefan Weber, head of the ARTORG Center for Biomedical Engineering Research, and a close scientific collaborator of Daniel Candinas.
At the end of the day, three awards for excellent academic achievements in the field of Biomedical Engineering at the University of Bern were presented.
Juan Ansó received the SICAS Award 2013 for the best Master thesis for his work "Integrated Facial Nerve Monitoring for Functional Control of Robotic Assisted Drilling in the Mastoid".
The SICAS Award 2013 for the best PhD thesis was given to Samantha Chan for her work "Evolution of In Vitro Organ Culture Models for the Intervertebral Disc".
The SICAS Poster Award 2013 was given to Patrick Steiner. His poster "Image Enhancement Algorithms for OCT Imaging of Subthreshold SRT Laser Lesions" convinced the jury.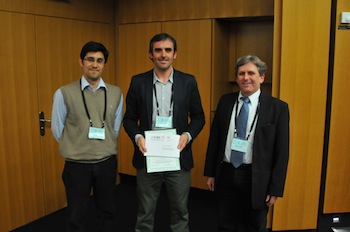 Left picture:
Juan Anso receives the Best Master Thesis 2013 Award
(left Mauricio Reyes, University of Bern; right Bernhard Reber, SICAS Foundation)
Right picture:
Samantha Chan receives the Best PhD Thesis 2013 Award
(left Mauricio Reyes, University of Bern; right Bernhard Reber, SICAS Foundation)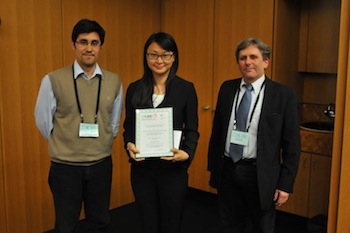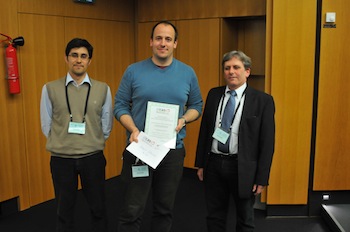 Left picture:
Patrick Steiner receives the Best Poster 2013 Award
(left Mauricio Reyes, University of Bern; right Bernhard Reber, SICAS Foundation)
BME Day 2013 Final Program and Exhibitors' Plan