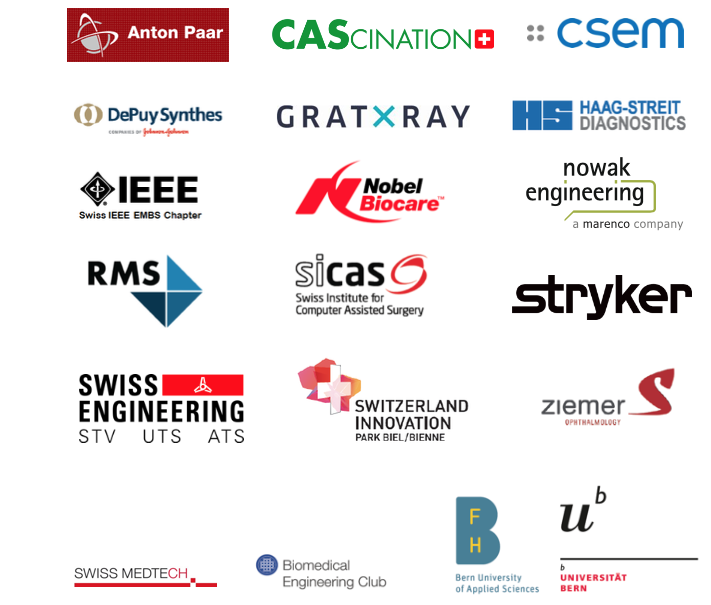 The industry, medical doctors, and engineers meet for the Biomedical Engineering Day at the Inselspital in Bern with great success
On May 4, 2018, the Biomedical Engineering Day took place in the auditorium Ettore Rossi at the Inselspital in Bern. The Master in Biomedical Engineering program of the University of Bern organized this event for the tenth time.
The event is an efficient platform in Switzerland for networking of Master and PhD graduates and Swiss and international medical technology companies. This year's companies introduced themselves through oral presentations and gave insight into their commercial activities and their company philosophies as well as showed their demands on junior employees. Students thus had the opportunity to get to know potential future employers and contact them directly. This was made possible between the sessions in personal conversations and at the exhibitors' booths.
The BME Day offered great opportunities for the Bernese biomedical researchers, too. The ARTORG Center for Biomedical Engineering Research and the Institute for Surgical Technologies and Biomechanics as well as the Bern University of Applied Sciences, a partner within the Master program, used the possibility of presenting current research projects to more than 250 participants. Interestingly, Master and PhD students play an important role in many of these projects. Thereby, this event was a demonstration of scientific achievements, too.
Besides company representatives, scientists, researchers, and young academics, many medical doctors participated in this year's event as they had the chance for intensive communication with the biomedical engineers.
One highlight of the day was the successful live surgery by Marco Caversaccio, Department of ENT, Head & Neck Surgery, University Hospital Bern (Inselspital). Illustrative explanations in the auditorium were given by Georgios Mantokoudis, from the same department.
Awards
Swiss Engineering Award for the best master's thesis (innovation): Samuel Stucky (Building online mosaics for low-cost intra-ocular imaging)
Swiss Engineering Award for the best master's thesis (innovation): Gerhard Kuert (Next generation of cardiovascular catheters based on flex-print technology)
Swiss Engineering Award for the best master's thesis (basic science): Emily Thompson (Development of an in silico and in vitro dynamic lung microvasculature model)
SICAS Award for the best PhD thesis: Arne Feldmann (Thermal and drilling properties of bone)
BME Club Award for the best poster: Can Gökgöl (The effects of nitinol stent oversizing in patients undergoing femoropopliteal artery revascularization: a finite element study)
BME Club Award for the best master's thesis abstract: Christopher Lenherr (Indentation properties of metastatic vertebral bone)
BME Club travel grant: Stephan Gerber (Virtual reality for activities of daily living training in neurorehabilitation: a usability and feasibility study in healthy participants (ECMB 2019, Hawaii))
BME Day 2018 final program and exhibitors' plans
Please open the BME Day 18 booklet including the final program and exhibitors' plans here: