Information Events for Prospective Students
Master's Open Days
The next Master's open days are being held in March 2021.
Every year in March, the University of Bern opens its doors to interested students. The master's program Biomedical Engineering will offer an information event and a guided tour through the labs of ARTORG center. Moreover, a selection of regular courses will be open to interested students. This is a great opportunity for prospective students to get an insight into our program.
BFH-TI master's information events
BFH-TI master's information events in February/March, 2021
Our partner, the Bern University of Applied Sciences, Engineering and Information Technology (BFH-TI) offers two information events on the BME master's program in Biel and Burgdorf.
Biomedical Engineering Day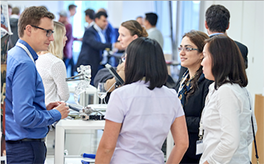 The 12th Biomedical Engineering Day will take place on May 7, 2021
The Biomedical Engineering Day provides an excellent opportunity for future students to get a comprehensive insight into the Biomedical Engineering master's program.